« September 2004 | Main | November 2004 »


Halloween
2004
Photo by Derek P.
Posted on October 31, 2004 at 12:00 PM in creativity, friends & family, holidays, San Francisco | Permalink | Comments (0)
Recommended
2004
Imagine it pourin, its rainin down on us, mosh pits outside the oval office
Someone's tryin to tell us something, maybe this is god, just sayin we responsible
For this monster, this coward, that we have empowered
This is Bin Laden, look at his head noddin, how can we allow something like this, without pumpin our fists
Now, this is our, final hour
Let me, be the voice, in your strength and your choice, let me simplify the rhyme, just to implify the noise
Tryin to amplify to times it, and multiply it by six-teen million people are equal at this high pitch
Maybe we can reach alqueda through my speech, let the president answer our high anarchy
Strap him with a AK-47, let him go fight his own war, let him impress daddy that way
No more blood for oil, we got our own battles to fight on our own soil, no more psychological warfare to trick us to thinking that we ain't loyal
If we don't serve our own country, we're patronizing our hero
Look in his eyes, its all lies, the stars and stripes, have been swiped, washed out and wiped,
And replaced with his own face, mosh now or die, if I get sniped tonight, you'll know why, cuz I told you to fight

Vote!
Posted on October 30, 2004 at 05:47 PM in Current Affairs | Permalink | Comments (0)
A late fall view to the east
2004

[Maybe there are parrots in the tree or something. Not sure as of January 2006 why I took this picture.]

Posted on October 30, 2004 at 12:00 PM in San Francisco | Permalink | Comments (0)
Strongly Recommended
2004
Please visit Internet Vets For Truth and watch some of the clips there. If you choose just one, please watch John Kerry's testimony before a congressional committee at the age of 27. His statements about the attitude of the administration and the country toward the war in Vietnam ring very true to what could and should be said about the war in Iraq today.
If the honor of our nation matters to you, vote to get George W. Bush and his administration out of power. They are a black mark on our country.
If you believe "Thou Shalt Not Kill", vote to get George W. Bush and his administration out of power. They have initiated a war to increase their personal political and economic power. Thousands are dying because of their unjustifiable tactics.
If you believe that this country should be a democracy rather than an oligarchy, vote to get George W. Bush and his administration out of power. The poor pay the price with their lives so that rich can get richer. The top 1% of U.S. citizens have more personal income than the bottom 90%. Does one person really deserve to have so much when so many Americans are out of work and below the poverty line? This disparity is getting worse under Bush economic policies.
John Kerry isn't without flaws - no one is - but he is vastly more suited to lead our country. His administration would be a strong step in the right direction. If all Kerry can achieve in his first four years is to halt the damage that George W. Bush did in his first four, that would be wonderful.
There is too much at stake not to vote. Please do.
(Are you interested in teaching about economics? Reach and Teach looks like a fantastic resource. They have a lesson called Ten Chairs which teaches about the distribution of wealth in the United States. I think it is time for me to start taking my presentational skills out of the workplace and into some community rooms...)
Posted on October 30, 2004 at 11:54 AM in Current Affairs | Permalink | Comments (0)
An Endorsement
2004
Posted on October 30, 2004 at 12:11 AM in Current Affairs | Permalink | Comments (0)
Dawn in San Francisco
2004
Posted on October 29, 2004 at 07:25 AM in San Francisco, the big room with the blue ceiling | Permalink | Comments (0)
Paper or Plastic?
2004
Remember: In California you don't have to vote using an electronic voting machine. You can request a paper ballot. Learn more and see the list of counties affected.
Posted on October 28, 2004 at 09:27 AM in Current Affairs | Permalink | Comments (0)
Damn that's good pi
A little bit more than a triple-threat in Portland
2004
I needed a vacation, but like so many don't have time or money to take it. As a consolation prize to myself, I planned a long weekend in Portland, Oregon, before a Tuesday business meeting there with a group of northwestern customers. To my great surprise, those three days felt like a week away and left me revitalized.
My home away from home for this getaway was 800 East Burnside, a hipster's paradise just over the river from downtown. The site combines the Jupiter Hotel, a cleverly renovated motel, with a new restaurant and lounge called Doug Fir which evokes 50s modernism, 70s chic and Lynch's Twin Peaks to stunning effect.
The decor throughout is witty and distinctive. Simple scandinavian style has been paired with tongue-in-cheek accents in the Jupiter's hotel rooms to provide pleasant surroundings on a budget (rooms start at just $79 a night). Doug Fir's restaurant and lounge are a glory of brown textures: wood that still tells of its origins, dark faux fur on the walls, gold-tinted mirrors, curvy leatherette booths, all set off with silver accents.
The hotel rooms are a complete departure from standard hotel fare - no iron, coffeemaker, desk or bad artwork - but provided you have no allergy to that certain Ikean look, should serve all your needs just fine. Note that early-risers and light-sleepers should request rooms on the wings away from the lounge and its patio which is cheerfully active until 3am on weekend nights in fine weather. I can attest that the earplugs available at the check-in desk work well.
Though there is parking for guests, a car isn't really necessary since Portland's reliable public transit can take you right to the doorstep. The #20 bus, which connects downtown with the MAX light rail running from the airport, runs along Burnside and allows the Jupiter to serve as your base of operations for exploring both the lively downtown, home to Powell's Books, and the charms of Washington Park, with its gardens, trails, zoo and the beautiful and moving Holocaust Memorial, to the west.
Despite being newly opened, the restaurant has already found solid footing with stellar service and menu items destined to become classics. Standouts are the two soups, tomato and mushroom ($3 a cup, $5 a bowl), the mashed potatoes, and Joe's Special, a simple yet perfectly seasoned spinach & egg scramble with either ground beef or veggie sausage ($12).
To my great disappointment the restaurant had not yet begun offering the planned Monday night special, Drunken Buck ("Tender elk roast simmered all day in red wine, berries and herbs"), which sounded so good I was prepared to reacquaint myself with red meat. The silver lining for this cloud in my skies is that I'll just have to visit again.
Downstairs from the restaurant and bar is the well-designed lounge featuring great nationally recognized acts in an intimate 300 capacity setting. Playing at Doug Fir in October: Mark Lanegan, Rachel Yamagata, Sleater-Kinney, Helmet, and Supreme Beings of Leisure.
Doug Fir isn't just a night spot, however; they're open 21 hours a day, 7 days a week, and its all good. Much of this review was composed on a Monday afternoon relaxing in a quiet corner of the bar area, enjoying classic r&b tunes and the free wireless for hotel guests and eating a piece of warm marionberry pie so good it almost brought tears to my eyes.
Happening club, high-quality restaurant, hip motel, all at a reasonable price: lucky Portland has a new treasure that adds up to a bit more than the sum of its parts.
800 E Burnside, Portland, Oregon 97214
Jupiter Hotel (www.jupiterhotel.com, 503.230.9200)
Doug Fir (www.dougfirlounge.com, 503.231.wood)
Round-trip airfare from about $260 these days. (Fly from Oakland to save enough money to pay for an extra night at the Jupiter.)
Posted on October 26, 2004 at 10:04 PM in travel | Permalink | Comments (0)
Tell Your Stories
2004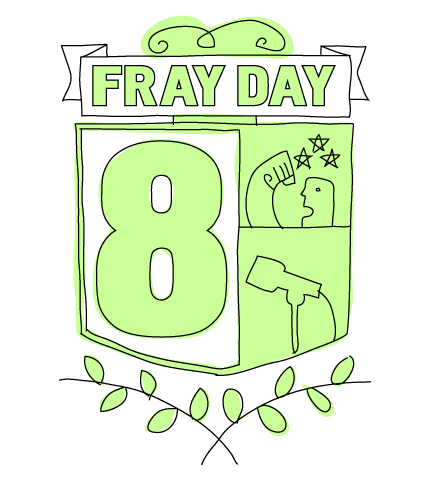 Posted on October 23, 2004 at 05:11 PM in creativity | Permalink | Comments (0)
Posted on October 23, 2004 at 11:12 AM in linky goodness | Permalink | Comments (0)
There can be only one!
2004
Just for clarification, the "metagrrrl" posting on Bust's Lounge is not me.
Come up with yer own handle, honey.
Posted on October 19, 2004 at 10:58 PM in Dinah - introduction | Permalink | Comments (0)
Lunch Today?
2004
Two pieces of warm marionberry pie, a couple cups of decaf coffee and, for dessert, a Manhattan.
Man, I love vacation.

Coffee at the Doug Fir Lounge, Portland. This is not in fact one of Courtney's clever stump tables where the bark zips off, but is in fact a big chunk of an actual tree.

And now the same, only more yellow. Stupid Treo phone camera.
Posted on October 18, 2004 at 06:55 PM in travel | Permalink | Comments (2)
Big walk
2004
I slept in again today (as a result of staying up until after the bar closed and the crowd on the patio quieted down) and then set out for adventure. Despite forecasts of rain (accurate) I decided to go hike around Washington Park. I looked around the fascinating light rail station there - hundreds of feet underground - then had a cup of split pea soup at the Zoo cafe. I skipped the Zoo, the exhibit on chocolate (From Tree To Truffle) with its tasting, and the Oregon Mycological Society mushroom show and instead headed out along a trail intended to hike through the bamboo & ginko areas of the Hoyt Arboretum. Unfortunately, I didn't have a map, took a wrong turn and went in the absolute wrong direction. A kindly fellow gave me a lift back up the hill to the arboretum's vistor center and just in time too because the sky opened up and it absolutely poured rain for 5 or 10 minutes.

When it had settled back to a very light rain, I checked the map (much more carefully this time) and took the Oak Trail to get me to the trail to the Japanese Garden. It was an absolutely beautiful hike. Fresh air, gorgeous light & colors, the sound of the rain through the leaves. Truly wonderful.
Alas, I arrived 15 minutes too late to get into the gardens, but I was able to walk down the hill and enjoy a cup of hot cider in the Rose Garden. From there I walked further down towards town and happened on the Holocaust Memorial. I am so glad I did.

The Portland Holocaust Memorial is incredibly powerful. I took a lot of pictures and will write more about it when I can illustrate my comments. [Pictures put up in Flickr in January 2006, brought to blog in November 2013.]


Suffice to say, if you will be in Portland, do try to bear witness. Never to forget and never to let it happen again is the only thing we can do.

After leaving the memorial, I walked on down through a couple blocks of town and found myself on West Burnside. My hotel being on East Burnside this was fortuitous and I was shortly able to catch a bus straight back to my home away from home.

Since the Tango Fest people were all checking out today, I was able to get moved to a quieter room. I feel silly for forgetting to take a picture of the other room. This one is a bit bigger, but it doesn't have as cool a shower curtain (that one said "It's All About Me" over & over on it). It does have cool round green rugs on the floor and a fuzzy green bolster on the bed.

Now I just need to freshen up and go over to the restaurant for dinner. Having only eaten a Luna bar, a small bowl of soup, a cup of cider and 5 small pieces of candy today, I'm ravenous!
Posted on October 17, 2004 at 06:36 PM in travel | Permalink | Comments (1)
User Switching and Palm conundrum
2004
I use OS X's multiple user accounts capabilities and Fast User Switching to keep my personal computing separate from my work computing on the same device (my PowerBook G4).
My Treo 600 phone/pda/camera does not have this kind of sophistication. So far it appears that I can only synchronize into one user account. This is a bit annoying because I'd like to be able to access my calendar - which includes both personal and work information - from either account. Since the calendar is more important to work, I chose that account, but I'd really love to be able to see this data whichever hat I'm wearing.
Anyone know a way around this problem?
Posted on October 16, 2004 at 07:27 PM in Web/Tech | Permalink | Comments (3)
Node 608, Urban Grind in the Pearl
2004
Recommended:
Getting lost in Powell's Books for hours
More slow urban strolling
Urban Grind in the Pearl neighborhood at 14th & Kearney
Their turkey, pepper jack cheese and spinach pesto sandwich.
The incongruity of lunch at 6pm.
Rambling conversations with Urban Grinders (one of whom recommends I check out the Thai restaurant near Indian Oven near Haight & Fillmore and the sushi place at 2nd & Geary in San Francisco)
Reading a book on a big soft leather sofa.
Licorice/Peppermint tea.
Posted on October 16, 2004 at 06:23 PM in travel | Permalink | Comments (1)
Node 587, Powell's Books
2004
Recommended:
Portland's public transit system
Jupiter Hotel (provided you don't mind a lively environment and late hours)
Doug Fir's Mushroom soup and their talented staff
sleeping until noon
walking around downtown Portland

[The Californian's endless fascination with buildings made of brick.]


Love this signage. Look at that beautiful street name indicator! Lovely! The old painted CRANE business sign is nice too.

the nice people at Powell's Technical Books
free wifi all over the dang place
the technique of ensuring excellent weather by hauling a big heavy wool coat around with you all day
people watching in downtown Portland (many cuties, many piercings & tattoos, many many young people)
not having any particular plans
Posted on October 16, 2004 at 03:46 PM in travel | Permalink | Comments (1)
Soul patrol
2004
I won't be around this Sunday evening (the 17th) to enjoy Lord Loves A Working Man's next show, so I hope you'll head over to the Hemlock Tavern at Polk & Post to hear that great 60's Memphis soul sound. They're the second of 3 bands, expecting to go on around 10pm. The cover's only $5, so even penny pinchers can afford a night out!
I was at Hemlock Tavern a while back to meet up with a couple of friends before one of them did a show there and was really impressed. It's a beautiful little club and the staff were great.
Posted on October 13, 2004 at 07:36 AM in music, San Francisco | Permalink | Comments (0)
Another year already
2004
How busy have I been? So busy that I didn't write a new essay for Discardia in September. So busy that I keep forgetting what day it is. So busy that I didn't post anything on Sunday to celebrate my blog's sixth birthday.
Happy birthday, MetaGrrrl!
(So busy that's all I'm gonna say right now!)
Posted on October 12, 2004 at 01:08 PM in Weblogs | Permalink | Comments (1)
Checkboard ball
2004
When I saw this Mini outside Rainbow with its fabulous paintjob on the rear view mirrors, I knew I needed a real-life self portrait with my logo.

Posted on October 11, 2004 at 12:00 PM in Dinah - introduction | Permalink | Comments (0)
Across the Mighty Mississip
2004
Today I walked over the Mississippi river


on the historic Eads Bridge,


lunched in Laclede's Landing,


visited the 1904 World's Fair (via a museum exhibit), flew across the country and finally made it back to home sweet home.
*whew* It's been a long time.
Now if I just didn't have to get up and go to work in the morning... ugh...
Posted on October 10, 2004 at 09:40 PM in travel | Permalink | Comments (1)
Stories of the station, St. Louis
2004
"Tell the story of St. Louis Union Station..."
This was a sort of Fray Day on paper. If I recall rightly [notes as of a year later], when the station was converted to a shopping mall, they asked people to write their memories and then put the letters in these multi-page stands. It was a great exhibit. A lot of communities should do something like this.

These were great stories. Wish I had a better camera...


Oh for a better camera. These were amazing stories.


A story of St. Louis Union Station


Here's the best transcription I can do from this photo. I wish these letters were available online!:

I am a black American, and St. Louis Union Station provided an experience that even after forty years remains clearly etched in my memory.

In December 19[44?], the United States was at war. I had just finished thirteen weeks of grueling training to become commissioned as an officer in the U.S. Army. Walking tall and proud in my new uniform and shiny gold bars of a 2nd Lieutenant, I was visiting friends in St. Louis en route to an overseas combat assignment.

Tow of my friends drove me to the station. It was my first time to see the impressive fountain "Wedding of the Waters". And inside the station, the almost breathtaking [?panorama?] of trains lining up in tracks stretching endlessly into the distance under the high vaulted skylighted roof. And the people! Well dressed and ... happy children, many of the women beautifully ... in furs and jewelry as they milled about in a shifting ... of arriving and departing passengers.

Having time to spare before my train was to depart, I offered to buy my friends a drink. They looked at me for a moment, then one said slowly, "Not in here you won't".  [...] was my first experience of racial prejudice, not the last, but it was one of the most lasting. Perhaps it was the particular circumstances, the ... embarrassment of my friends, the peculiar irony of my position. I wasn't angry. Sick to my stomach is more like it. A bright shining moment needlessly terminated.

Shortly I boarded my train in my new uniform and bright gleaming bars, off to fight, and possibly die, for my country, to preserve the American way of life. Yes, I remember Union Station, but with no affectionate nostalgia. Sorry this isn't more upbeat, but that's the way it was.
Posted on October 9, 2004 at 12:11 PM | Permalink | Comments (0)
the train station in St. Louis
2004
Stained glass. This was an allegorical scene depicting San Francisco on the left, St. Louis in the middle and I can't remember who on the right.

Marvelous archway

Posted on October 9, 2004 at 12:10 PM in travel | Permalink | Comments (0)
The fantastic City Museum of St. Louis
2004

The spiral is a climbing tube. The ladder-like thing on the right is actually a multi-story slide with a peaked roof made of those rollers used when unloading trucks. Very fun to slide down and spin the rollers with your hands as you go!


Not just hands-on fun, full-body-on fun!

Posted on October 9, 2004 at 12:09 PM in travel | Permalink | Comments (0)
Giant Rats from the Sewers of Paris!
2004

wonderful signage in the City Museum, St. Louis

Posted on October 9, 2004 at 12:08 PM in travel | Permalink | Comments (0)
arcane pop culture references
2004

An oddity in St. Louis' City Museum.


Each had a symbolic indicator which would light up, as I recall.

Posted on October 9, 2004 at 12:07 PM in travel | Permalink | Comments (0)